Yarmouth Schools will return to normal operations, with activities resuming on Saturday morning and schools reopening on Monday morning. Superintendent Dolloff has sent a more extensive message by email to all district contacts.
Schools in Yarmouth will remain closed on Friday, October 27. Offices will also be closed, and no student activities will be held. Superintendent Dolloff will be providing a more extensive update to all staff and families later today.
Yarmouth Schools will be closed today - Thursday, October 26 - due to the shelter-in-place and ongoing search for a person of interest in last evening's tragedy in Lewiston that impacts many of our staff and families. All offices will be closed as we urge folks to remain off the roads as much as possible. Information on resources for supporting students and adults in the face of this tragedy will be shared by email later this morning.
Good evening - Please know that Yarmouth Schools are aware of the horrific situation in Lewiston and we are in communication with law enforcement. We will continue to monitor the situation and will make the best decisions we can regarding schools and the support we can provide for students and families in the coming days. We will communicate more early tomorrow morning.
Welcome to Bus Safety Week in the Yarmouth Schools, culminating with Bus Driver Appreciation Day on Friday! Students will be participating in bus safety drills throughout the week, and we encourage all automobile drivers to rededicate themselves to watching for buses, bikers, and pedestrians as our students travel to and from school each day.

Shout out to YHS Senior, Atticus Prinn, for publishing his book, Foxtrot Algorithm! So cool! #GoClippers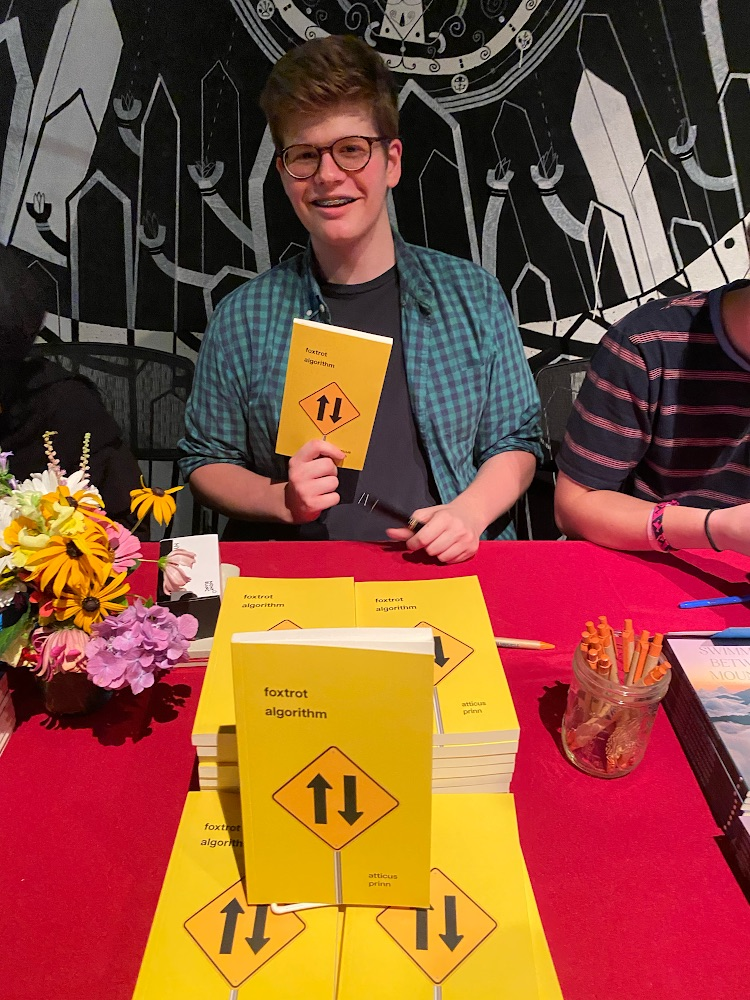 Congratulations YHS students, Sebastien Martinez, Jack Janczuk and Annie Vinnakota. They have qualified as National Merit SemiFinalists! #goclippers
Sorry for that error in our first message. It's the 2023 school year! Time flies, but not that fast. Enjoy the day!!
Welcome to the 2033-2024 school year. Please be aware that buses and drop-off lines may be a bit slower than normal these first few days. Have a great year!

Great day with our new teachers/counselors and mentors at YHS today! Excited for the year to begin!
Please VOTE in the Yarmouth town elections and the school budget referendum. Voting takes place in the YHS gymnasium tomorrow (TUESDAY, JUNE 13). Polls open at 6:00 a.m. and close at 8:00 p.m. THANK YOU!
Yarmouth's electric buses are hitting the road for the first time this afternoon. Ms. Carlson and Mr. Thompson will be transporting students home in a super-quiet and eco-friendly fashion. Keep an eye - and an ear - out for these blue-trimmed beauties!
Please consider attending tomorrow evening's Town Meeting (Tuesday, June 6), where you will have the opportunity to vote on the proposed Yarmouth School budget for the 2023-2024 school year. The meeting begins at 7:00 p.m. at YHS.
https://www.yarmouthschools.org/page/budget

So Proud- '23 Boyd Award winners Macy Gilroy and Issac Pendleton!

Great work from the Environmental Action Club!!!

Congratulations to Maya Faulstich and the YHS Environmental Action Club for becoming finalists in National Geographic's Slingshot Challenge! This global award recognizes students inspiring positive change in their communities. Their program, "Dishes on Demand", is designed to reduce single-use waste generated by high school team/club dinners.
Yarmouth School Department buses 6 & 12 will be running later than usual this morning due to road conditions in isolated areas. Some areas of Princes Point and Baywood Lane are inaccessible at this time.

Hi everyone! Just a reminder that the Day of Hope is tomorrow, Friday, April 7th from 5-6pm. The Day of Hope is a student organized "Ted Talk" style event centered around bringing hope to the community and beyond. This year we have three different speakers from a variety of fields to talk about what brings them hope. Admission is free! No tickets required. Donations are welcome and all proceeds will go to Partners for World Health. Check out our website here for more information. We hope you'll join us!

Congratulations to our Junior Achievement 2023 Titan Challenge State Champions!